Get Economical Solution for Your Business


With E-Commerce Starter
in Just £889 Was

£2,969
5 Unique Pages
5 Stock Photos
Up to 100 Products & 5 Categories
5 Sliding Banner Designs
5 Email Accounts
FREE 1 Year Domain registration & Hosting
E-Commerce Starter
To start a new business in a particular industry, a number of factors need to be considered. In the start of a business, one cannot make slips as they can lead to major losses. An E-Commerce website design in this regard holds the crucial place and regulates the achievements or failures of your business. E-Commerce business is highly trending in today's market. Every other business is inclined towards these type of website to get much success and to make the buying and selling as easier as they were never before.
Logo Design Legend has introduced E-Commerce Starter Package by keeping the needs and requirements of startup businesses. This package has moderately priced at £889, which includes 5 Unique Website Pages.
Unlimited Revisions, Up to 100 Products & 5 Categories and Complete W3C Certified HTML.
5 Email Accounts, 5 Sliding Banner Designs and adding CMS. This package provides FREE 1 Year Domain Registration & Hosting along with Google Friendly Sitemap.
Want to Try More?
Our E-Commerce Professional Costs you £1,629 and you can get branding benefits of a Small Scale Business and much more.
Try Our E-Commerce Professional
E-Commerce Starter
£889
5 Unique Pages
5 Stock Photos
Up to 100 Products & 5 Categories
CMS Included - Manage your content/web
5 Sliding Banner Designs
5 Email Accounts

Free

1 Year Domain registration & Hosting
Contact/Query Form
Payment Module Integration
Unlimited Revisions
Complete Deployment
Complete W3C Certfied HTML
Google Friendly Sitemap
Complete Source Files
100% Ownership Rights
Money Back Guarantee
Mobile Responsive Website
Here is How we Create Spectacular Websites

Build a design brief
Tell us about your business and what you need designed.

Receive your designs
We provide you with first drafts of the projects with multiple Design concepts

Give feedback
The more detailed your feedback, the easier it will be to bring your design to life.

Pick your favorite
Finally we deliver your designs to you with complete ownership rights.
Frequently Asked Questions
We have a fixed pricing plan for our E-Commerce services. However, customers can enquire about their particular needs and requirements and receive a custom quote. With the best multi-channel E-Commerce integration options available, we will make sure that you don't have to break your bank for it.
Yes of course. Through our CMS website option, we provide businesses with the liberty to add or remove content from their website. With easy to use tools, you can create new pages, delete old ones, add new text and images and be in full control of your website.
Upon creation of your online store, we integrate enterprise platform system which allow for confidentiality of payment information to remain protected and eliminates data theft probabilities. All payment transactions are secured through the 256-bit SSL Certification. This is the same layer of security used by banks globally. With multiple payment gateways available, we provide 100% guarantee that all confidential information will remain protected.
Whether your customers browse your website from a mobile or a desktop, we deliver 100% responsive websites so that the browsing experience remains the same irrespective of the medium.
No. The designated Logo Design Legend representative will be continuously in touch with our customers to provide them with timely updates
We provide E-Commerce solutions which are second to none. Through just one click, your customers will be able to swiftly browse through your website and checkout successfully. The programmed process within our service allows for automatic calculation of all shipping and tax charges. Also, it will eliminate all costly errors such as keeping count of inventory and ensuring successful delivery.
We provide 100% guarantee that our designs are plagiarism free and our customer will have complete ownership of the design.
We provide detailed and thorough E-Commerce solutions which cover all bases from setting up your store to successful checkouts. Our team of experts will liaison with all third party partners to ensure delivering top notch customer experiences and providing uncompromised backend support.
Once the design brief has been finalized and all instructions have been conveyed accordingly, we deliver your working website within 5 working days.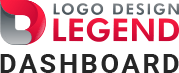 Discover endless possibilities and manage everything under one roof.
Logo Design Legend provides its customers with a highly sophisticated and advanced online dashboard. It helps them review and manage everything regarding their projects. From your recent and ongoing projects to placing new orders, you can do all that under one roof.