Absolute Branding Solution with
Logo Stationery Combo Package
in Just £110 Was

£275
Unlimited Design Concepts
8 Dedicated Designers
Unlimited Revisions
Email Signature Design
Final Files (.AI, .PSD, .EPS, .JPEG, .PNG, .PDF)
Logo Stationery Combo
Small and Medium Enterprises have the capability to develop into bigger organizations. To accomplish that goal, small/medium enterprises need to experience revamp of their brands. For this purpose, businesses require a positive evaluation in their brand values and image. Logo Design Legend understands this need of small/medium enterprises, hence, come up with the Logo Premium Package to initiate brand revamp.
Logo Premium Package is the best choice for all of the small and medium businesses to revamp their branding strategies.
This package is priced at £110 only. Providing you with Unlimited Custom Logo Design Concepts and Unlimited Revisions.
Stationery Design, Free MS Letterhead, Free Social Media Designs, Free Email Signature Design, in just 2-3 days at affordable prices.
Want to Try More?
Our Logo-Brochure Combo Package Costs you £299 and you can get branding benefits of Corporate Level Organization and much more.
Try Our Logo-Brochure Combo
Unlimited Logo Design Concepts
Unlimited Revisions
48 - 72 hours Turnaround Time
8 Dedicated Designers
24/7 Customer Support
Stationery Design (Business Card, Letterhead, Envelope, Invoice,
MS Word Letterhead)
Email Signature Design
Final Files (.AI, .PSD, .EPS, .JPEG, .PNG, .PDF)
100% Satisfaction Guarantee
100% Ownership Rights
Money Back Guarantee
Final Price for Limited Time
Here is How we Create Professional Designs

Build a design brief
Fill out the creative design brief and tell us everything that you need and allow us to kick-start your project.

Receive your designs
Our creative designers will work according to your needs and provide you with multiple design concepts.

Give feedback
Review the provided design concepts and let us know if we need any additions or revisions in your design.

Pick your favorite
Pick what satisfies your business needs the best and get final designs with complete ownership rights.
Frequently Asked Questions
No. Our customers can request for a custom quote for their specific requirements
Yes. Our customers can design samples and inspirations
Our turnaround time is 48 hours. However, this may vary from project to project
The final file will be delivered in 8 formats. However, we can provide other formats as well based on customers' requirements
Yes. Every customer of Logo Design Legend receives special attention for their queries. A representative from Logo Design Legend will always be available to cater to our customers' needs
We provide unlimited revisions to our customers under our listed logo design packages
No. The designated Logo Design Legend representative will be continuously in touch with our customers to provide them with timely updates
Yes. We primarily cater to banner designs for websites and social media. However, if there is a third party medium, our customers can enquire about the following query with us.
We provide 100% guarantee that our designs are plagiarism free and our customer will have 100% ownership of the design.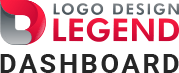 Discover endless possibilities and manage everything under one roof.
Logo Design Legend provides its customers with a highly sophisticated and advanced online dashboard. It helps them review and manage everything regarding their projects. From your recent and ongoing projects to placing new orders, you can do all that under one roof.